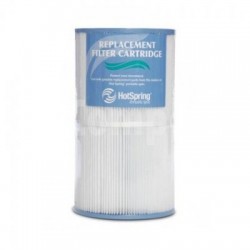 Hot Spring® 30 Sq Ft Replacement Filter
---
$36.00
The Hot Spring Highlife 71825 replacement filter is for select Highlife Hot Spring Spas, Grandee, Envoy, Vanguard, Aria, Triumph, Jetsetter. Complete with 124 pleats, providing more efficient filtration leading to better water clarity. Your filters should be replaced regularly to avoid any unnecessary strain on your hot tub components.
Made from heavy-duty polyester, Hot Spring filters are designed to last longer than cheap alternatives. All Hot Spring filter are made in the USA.
Compatible With: Hot Spring High Life Series Hot Tubs.