Transform Your Home into a Wellness Oasis with Our Salt Water Hot Tubs.
Discover the exceptional comfort, therapeutic benefits, and eco-friendliness of our top-quality salt water hot tubs. Exclusive to Hot Spring & Caldera Hot Tubs.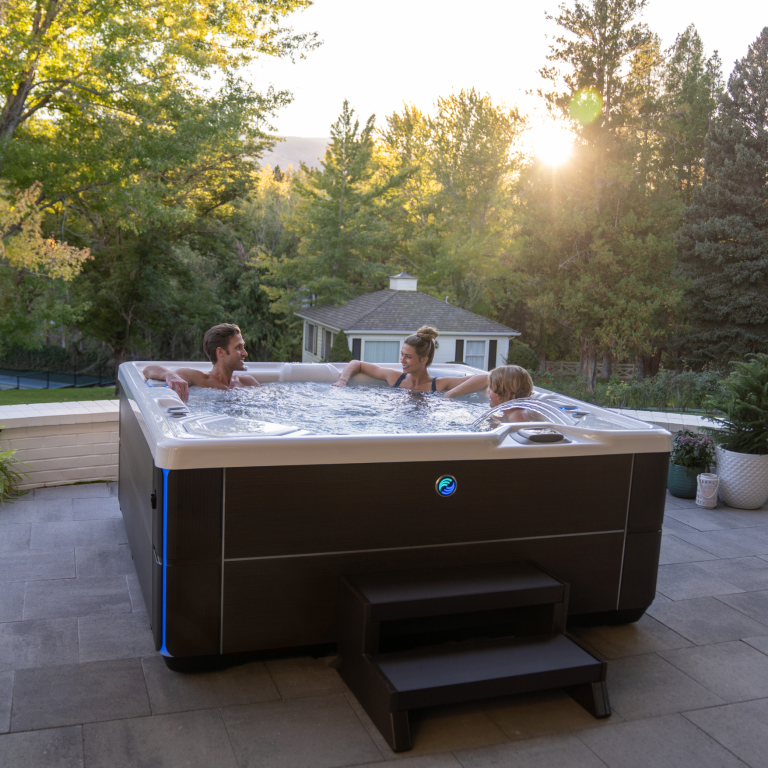 Best Selling Salt Water Hot Tubs
"We decided to opt for a salt water system in our new spa. The difference in ease of maintenance has been amazing … The water stays amazingly clean. We would recommend the saline system to anyone. The spa always smells fresh and is a delight to use."
"It is low maintenance and water care is easy. One of the nicest things is that we don't smell like chlorine after using it! I highly recommend this spa!"
"Maintenance is so easy and the salt water is so nice on the skin. Love it. A nice deep soak and the abundance of jets is perfect!"
Frequently Asked Questions
Most frequent questions and answers about our Freshwater Salt System exclusively for Hot Spring & Caldera hot tubs.
Is The Salt Water System Expensive?

Retail for the system is $799 with the purchase of a new hot tub. Yearly supply of cartridges is $350 which replaces the yearly cost of chemical keep up.
What Are The Pro's And Con's?

The Pro's of salt water is the ease in maintenance, the low levels of natural chlorine, the decreased maintenance cost, and getting to enjoy the hot tub more and maintain less. The Con's are that it's not for everyone – meaning – if you're using the hot tub as a party tub, the salt system will not keep up with constant overuse. It's truly meant for people who are using the hot tub for relaxation purposes.
Do I Have To Replace The Salt System?

No, the salt system does not need to be replaced regularly. However, you do have to replace your cartridge every 4 months to continue generating natural chlorine.
Do I Need To Add Chemicals Regularly?

Because the system generates natural chlorine on it's own, adding chlorine isn't necessary. You should not need to add any additional chemicals after set up unless phosphates are present.
How Often Do I Need To Change My Hot Tub Water?

You should only need to change your water every 6 months to 1 year depending on your water quality and usage.
Set up for the salt system is very simple – fill your hot tub, turn it on, add cartridge, add salt and that's pretty much it! You do need to wait 24 hours after start up to use your hot tub – but it's totally worth the wait!
Connect With A Hot Tub Consultant
Talk to an expert at HealthMate Hot Tubs to learn more about our Hot Tubs! We're here to help you start your journey to hot tub wellness.

Consultations are free and we're a no pressure team here. After all, we're in the industry of relaxation, health, and wellness